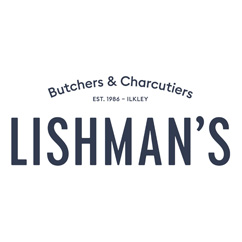 Email: david@lishmansofilkley.co.uk
Website: http://www.lishmansonline.co.uk
Tel: 01943 609 436
Sourcing the majority of their meat from established Yorkshire farms, the Lishman family support regional farmers who share their commitment to husbandry, welfare and outstanding quality. There is pride in the Lishman's ethos of going 'above and beyond' for their customers; even if it is something as simple as taking the extra time to prepare a roasting joint with the care and attention that the livestock deserved.
Renowned for their pork products and homemade pies, Lishman's is also crammed with delicious & interesting deli items from all over Yorkshire. With several Great Taste Awards under their belts, Lishman's make exceptional charcuterie and cured meat products on site: these are now available for mail order and, together with their traditional hams, they will courier these products all over the UK.
As well as everything you'd expect from a multi award-winning, independent butcher and charcutier, Lishman's hot counter has gained quite a following too: their daily specials give workers and daytrippers tempting hot sandwiches & breakfast items to choose from. You can grab a perch in the window and watch the world potter past with a coffee and porchetta sandwich, or have it wrapped and head up to the moors. For well over 30 years Lishman's has been one of Yorkshire's great foodie destinations and certainly continues to deserve it's 2017 accolade of 'Britain's Best Butcher's Shop'.